Don't Miss Girls Night Out!
May 16, 2015: Girls Night Out 6PM – 9PM.

This fun event focuses on activities that appeal to women. The 8th Annual Girls Night Out will feature a fun theme, TBA!  Come out and discover Historic Main Street. Merchants stay open late to showcase all the great things they have to offer. Check in at the Bell Tower to pick up a program or a Scavenger Hunt card. Activities include entertainment, games, trunk shows, prize drawings, scavenger hunt, health and beauty specials, massage, restaurant specials, dance demos, sales & promotions, food, chocolate, olive oil samplings, and much more. Sponsored by the Placerville Downtown Association. For info call (530) 672-3436.
Our 8th Birthday Party!
Saturday June 6th, 2015 1 pm to 5 pm
Come and sample all of the new 2015 harvest olive oils.
The certified extra-virgins
And all of the new Pressed-With-The-Fruit Olive Oils
Gift Certificate/Gift Basket Drawings
Gather up family and friends and make a fun day of it at Winterhill and
Downtown Placerville.
Come early and enjoy the Wagon Train- Historic Main Street will welcome the Highway 50 Association's 66th Annual Wagon Train with a host of fun activities including Server's Races, Gold-Panning, Corn Hole Tournament (new this year!), Wild West Shoot-outs, Country Music, Children's Games, Historical Displays, Food, Beer & more. The Wagon Train will come down Historic Main Street at about 2PM and proceed to the End of the Trail celebration on Placerville Drive. Events on Main Street are scheduled for 12PM-3PM. See this here for more information. For more information on all the family activities in Placerville please contact (530) 672-3436.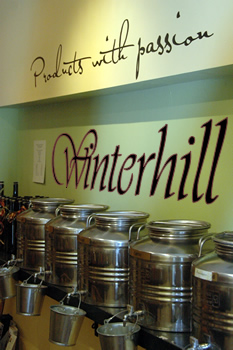 Olive oil is making a splash in El Dorado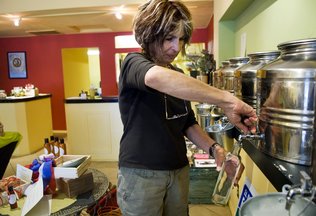 Autumn Cruz / [email protected]
Minnie Severino, Annette's mom, applying labels. Christian and Jake, Annette's grandkids, helping out.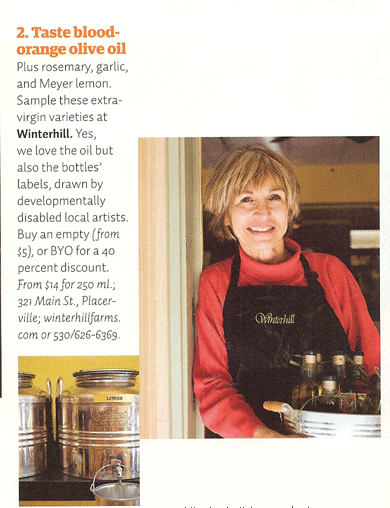 Annette and Richard at Harvest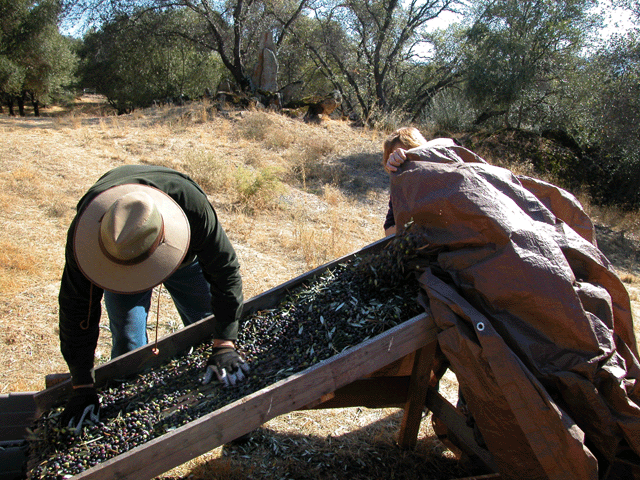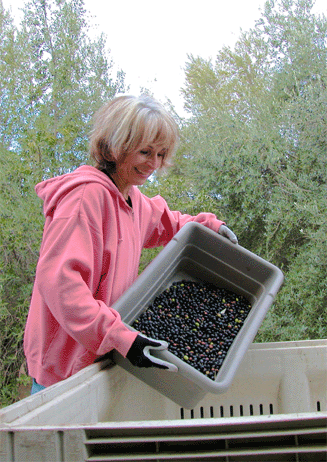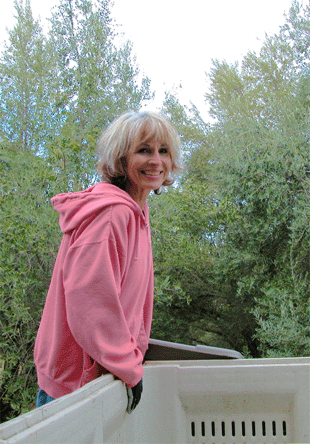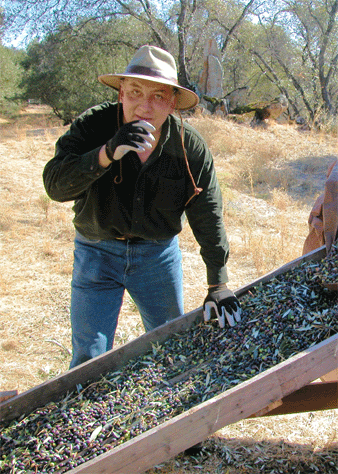 nnette and Richard at El Dorado County Wine Association's Passport Weekend
We were pleased to attend the unveiling of Gina Michelle Simonsen's "Winterhill" at the New Visions Gallery 2377 Butano Drive at the Country Club Plaza Mall in Sacramento. Here's' Gina holding some of her limited edition prints.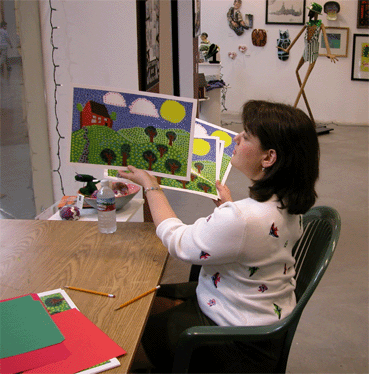 We were pleased to participate in the recent M.O.R.E. Art Auction at the El Dorado County Fairgrounds where the work of Jonni Tsujiaha was unveiled. Here's a picture of Richard and Jonni.